Bro Donald &
Dr. Mary Bell-Nolan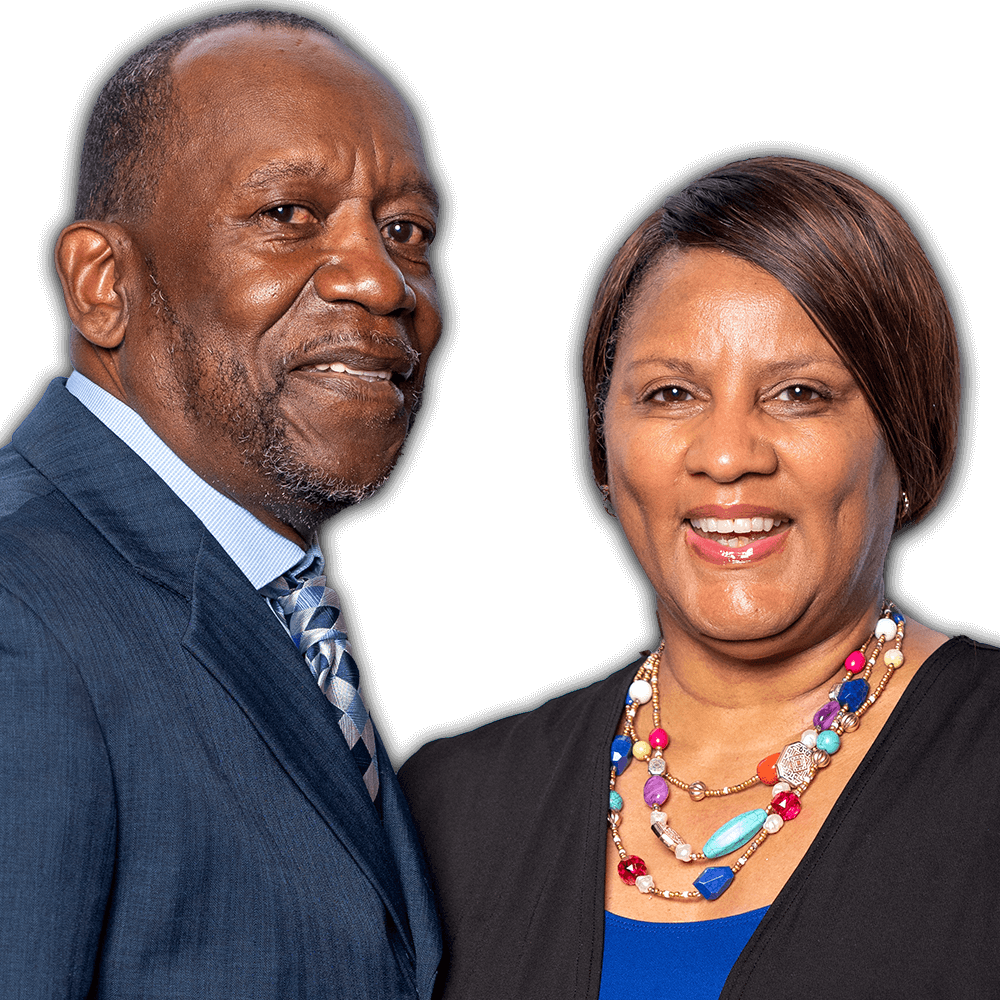 Brother Donald Nolan is a man of many talents that loves God. He enjoys serving in the church and helping his family. Brother Nolan works to please God by learning and studying His Word. He is a quiet but a prayer warrior interceding for those in crisis. Brother Nolan enjoys working in the church media department and doing large or small tasks to build the kingdom of God. He is a husband, father, grandfather, servant, man of faith, and a faithful worker. He enjoys spending time with his wife, children, and grandchildren. His favorite pastimes are watching sports, shooting pool, working in the yard, traveling with his family, and searching for ways to help in the church. He has been married to the love of his life Dr. Mary Bell-Nolan for over 40 years.
Dr. Mary Bell-Nolan grew up in the church under her father, the Late Elder John C. Bell, Sr. of Greater St. Timothy Bible Way Church. As a preacher's kid, she learned many life lessons as she watched her father handle challenging situations in the church. She fell in love with the church and what it stood for during her teen years. Yet, even though she was in the church, the church was not in her. Her prayers to learn more about God manifested from a relative explaining the baptism in Jesus' name and receiving the Holy Spirit. 
The late Elder Robert Hale of Ebenezer Apostolic Assembly taught them to stand on the Word of God and become God's servants. They worked in many church capacities, including ushering, singing in the choir, serving the community, supporting financially through tithes and offerings, women's ministry, brotherhood, and youth ministry. They spent many years at Ebenezer until their pastor retired. 
They joined Zion Apostolic Faith Church under the leadership of Suffragan Bishop David Parker, Sr.  As their leader, he continued building them up in Biblical principles. As a result, Brother Nolan and Dr. Nolan learned more about faith, prayer, God's miraculous works, holiness, life application of God's Word, church protocol, support through tithes and offerings, and the significant teachings to growing in God. In addition, they continued to work in the media, drama, youth ministry, choir, Sunday School, ministerial department, and special programs at Zion. 
Dr. Nolan has conducted workshops, seminars, retreats, conferences, and community events to help inspired people to continue the journey of serving Christ by transforming their lives through the Word of God. In August 2008, her father passed the mantle of pastoring over to her. She, with her husband, Donald, pastored for ten years. He served as the church's Trustee handling various responsibilities and leading numerous ministerial duties. Then, in search of a Bible Teaching Church, she and her husband joined Faith Place under the leadership of Bishop Samuel Hampton II, where they continued to work in various areas of ministry. She is a woman of faith, servant, wife, mother, author, teacher, mentor, trainer, giver, speaker, and intercessor. She believes that there is no problem that God cannot solve. "Behold, I am the LORD, the God of all flesh: is there anything too hard for me?" Jeremiah 32:27. (KJV)