Bishop Timothy D. & Evangelist Melanie Bailey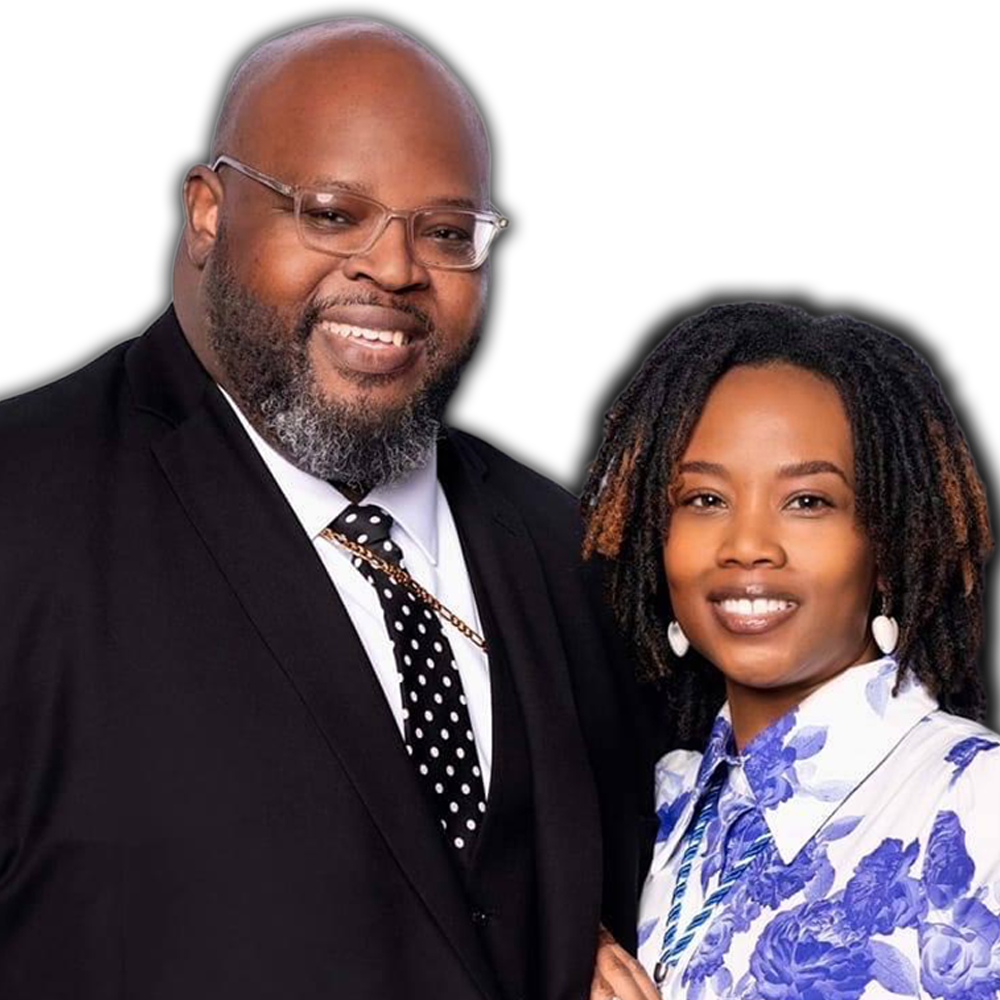 Timothy D. Bailey, the youngest son of the late Levert Bailey Jr. and Joanne Bailey, was born and raised in Cleveland, Ohio. From the womb, he was in church. In fact, his mother went into labor during a Sunday night church service.
At the age of 13, while playing "church" after choir rehearsal, God spoke to him and said, "preach my gospel." However, it was two years later, at age 15, when he began preaching the gospel of Jesus Christ.
He spent almost 30 years under the leadership of his spiritual parents, the late Bishop Lewis Q. Fitzpatrick and Mother Dr. Mary L. Fitzpatrick, at Calvary Apostolic Assembly. He was taught in the ways of Holiness and was baptized in Jesus' name in 1986. In 1988, during the Harvest Crusade at Pentecostal Church of Christ, Timothy received the gift of the Holy Ghost, with the evidence of speaking in tongues.
In his home church at Calvary Apostolic, he learned the value of taking care of God's house. He served by cleaning the church, taking care of the lawn, playing the drums, directing the choir and being the armor bearer for Bishop Fitzpatrick. Typically, where you saw Bishop, Timothy was present, as well, with his spiritual father.
As Timothy grew in ministry, he served under the leadership of Bishop C. Wayne Brantley of Zion Pentecostal Church of Christ. It was there that he received his Ministerial Fellowship Papers and became a Licensed Elder, in 2008, through the Pentecostal Assemblies of the World (PAW). His ministry was cultivated as Bishop Brantley built platforms for him to operate in his gifts. He was Youth Liaison and more, while performing duties as an armor bearer for Bishop Brantley.
In 2010, Timothy went to serve in ministry at the First Apostolic Faith Church in Akron, Ohio, under the leadership of Bishop Samuel L. Hampton II. Under Bishop Hampton's leadership, he served on the pastoral team, youth pastor and armor bearer.
In 2014, Timothy was consecrated as Pastor by Apostle Rochell Nooner of Los Angeles, California. Soon afterwards, he and his wife launched "Shaking A Generation Ministries." S.A.G. Ministries was blessed to see souls saved, healed and delivered. After 8 years, God transitioned S.A.G. from a traditional 4-wall ministry to an outreach and evangelistic ministry. He has served in many capacities from a local level to a national level and is a willing vessel that God has used for the healing and deliverance to many souls.
His pastorate was affirmed in 2016 with the laying on of hands by Bishop C. Wayne Brantley of Cleveland, Ohio. Then, in November 2020, "Pastor Timothy" was consecrated as a Bishop by Apostle Frederick V. Cullins, Jr. of the Apostolic Impact Empowerment Network.
"Bishop Timothy Bailey" is currently serving at The Faith Place in Akron, Ohio on the Pastoral Leadership Team. God is using him to preach the gospel throughout the city, and abroad, through healing and deliverance to the generation he's called to serve.
He is married to the lovely Evangelist Melanie L. Bailey. They are blessed to serve together in ministry. Together, they have 7 beautiful children and 5 grandchildren. His favorite saying is, "No matter what you've done in life, remember, God still has a plan for you. Repent and get back up. Your future is bright."
Evangelist Melanie Bailey
Melanie Bailey accepted her call as an evangelist for the Lord at 20 years old. She became a licensed minister at 34 years old in the P.A.W. on April 5, 2012 (through First Apostolic Faith Church under the leadership of Pastor Samuel L. Hampton II, at that time). The following year, on September 23, she became licensed and ordained as Evangelist Melanie Lynn Bailey by Apostle Rochelle Nooner.
In 2020, on November 1st, Evangelist Bailey was consecrated and ordained into the office of prophet and pastor by Apostle Frederick V. Cullens of Apostolic Impact Empowerment Network, based in Chicago, Illinois.
Melanie finds strength and hope in preaching God's Word. She believes that life is the training ground and that, at the appointed time, upon total submission to God, He unveils and reveals the power of a good soldier in the army of the Lord. She sees herself as a godly force to be reckoned with, a violent force, who, without hesitation, will take back what rightfully belongs to them (Matthew 11:12).
In 2022, Melanie has come full circle and returned to her home church, First Apostolic Faith Church, also known as "The Faith Place," in Akron. She and her husband, Timothy, are under the leadership of Bishop Dr. Samuel L. Hampton II and Elder Meranda Hampton.
The Lord Jesus Christ has gifted Melanie, the Evangelist, with multiple gifts. She believes she is His vessel for the healing and deliverance of God's people. She wholeheartedly believes in the supernatural powers of God and in demonstrating miracles, signs, and wonders. Prayer has been a vital part of her life since her youth, and she relies on prayer as a life source, having overcome many obstacles throughout her life.
Jesus Christ is the head of her life, and her husband, Timothy D. Bailey, is the love of her life. Together, they are parents to six handsome sons, one beautiful daughter, and also care for five wonderful God-children. They recognize and appreciate God's faithfulness in their lives.